I have just completed writing a long post on my special little wedding gift from my girl friends; and yet I am still compelled to write this post in my life journal to show how touched I am and how meaningful this little gift is to me.
You can check out the inspiring story
here
I won't be writing the same thing all over again; as that would mean reading two same posts and it does not seem to be logical.
Anyway, I just wanted to talk about this rather from a personal point of view compared to the inspiring blog post in my inspirational blog shared above; which I shared about a more general point of view.
So, don't be surprised to see this same photo appearing on two blogs at the same time.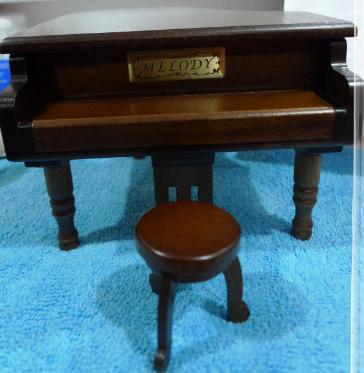 I won't go through the lengths of explaining the origin of this gift all over again, as I have already shared it in my blog above but I want to talk about the worth and meaning of this little gift to me.
A gift from a close friend, but one of the most touching and dearest thing that I have ever received.
When I looked at this little piano sitting in my bedroom, I was filled with images of my dear friends who got me this gift and I imagined their expressions and giggles as they discussed about me, my wedding and my gift behind me when they were planning to get me a gift.
These friends went to the extent of getting it from overseas; assigning it to the girl who was traveling to Taiwan at that time and I am amazed at how she could fit the gift searching into her busy schedule during her trip!
It is not an easy thing to do, and it takes a lot of effort and of course, enthusiasm, to be able to embark on this gift-searching journey.
I was truly touched and impressed with their diligence, and how important I must have been to them when they can just put me in their thoughts all the time.
A gift may mean just a gift to a lot of other people, but a gift means the world to me. I used to love receiving presents since I was a little girl, I mean, who doesn't?
Whenever I receive a present, I always look forward to unwrap to see what could possibly be inside that box.
I love mystery and surprises, and once I see the present within, I will
always
, yeah, always, think of the giver and his/her original intentions for me or what the gift means to me.
The little piano is a musical box, which just adds to my musical box collection but looking at it makes me think of my friends who got this gift for me.
Some of you may just brush this off as a usual and simple gift, but knowing me, this truly means something to me, and I am pleased that my friends thought of that!
What could possibly be in this gift that makes it so special?
Well, the story behind it for one, and the fact that it is from my beloved girl friends; that's a second.
Now, on to the details, the piano and the musical box does symbolize something to me.
I have always loved musical boxes; it is true, I have always had a soft spot for musical boxes. I didn't have a lot, but that doesn't mean I am not content with what I have because I already have a few which are very special to me, and some are even vintage-like; passed down to me by my dearest Mummy.
I remembered making a little musical box back then for a school and examination project, and I was really happy with the outcome.
Musical box is such a lovely thing; with its melody singing when you turn it on and I have always loved listening to this music.
It is amazing how music can be such a soothing thing to our ears, and also our hearts. I find that the musical box can be a reminder of how life is like sometimes. There is always love notes around us, but we need to find it and turn it on. Life is just like a musical box, when you turn it on, you listen to the inspiring and haunting melody and get carried away, dreaming of all the beautiful things in life until it stops. That is where you realize you need to step back into reality almost instantly.
We cannot expect the music to be constantly playing; just like how we cannot always expect our life to be full of lovely things because that is not real.
We have to go through the ups and downs in life; it is inevitable but like the musical box, we can always choose to turn on the music which is just similar to us looking at the good parts of life when we are down and enjoy those moments.
The thing is, we can do something to amend our mood; to make ourselves happy again. No one is responsible for our happiness except ourselves, don't you think?
That is the part I truly love about a musical box.
Secondly, moving onto the piano; it is amazing but I don't recall I told a lot of people about my secret love for music, and musical instruments. It is bizarre, but the piano happens to be a childhood favorite of mine and I have stuck with it ever since. I loved the piano, and it always have such a haunting effect on me. I felt like I am very familiar with the piano, like it's something just so dear to me.
I can't even remember whether I have ever told my girl friends about this, but if I have not, then they have truly earned their titles of being my sisters for reading my mind so accurately on this one.
The third part is about the details on the piano. Those who know me know that I am a very detailed person and that can turn into a very annoying trait at times too.
I am impressed at how my 'sisters' know and remembered that much about me to take the time and effort to select a gift which is just filled with these little details as this wooden piano is not made of ordinary craftsmanship, but with so much attention and definitely the work of an artisan! I was totally taken with the details of the little piano which came along with a mini stool (also crafted), and the fact that there is even a lid on the keyboard.
It is almost like a miniature version of an actual piano! It is no wonder, since my friend got it from a miniature museum *winks*
Anyway, this gift means a lot to me obviously, and I just can't find ways to describe it enough; even after writing about it in two blogs!
Besides the meaning of the gifts, I am thinking of my givers and what must have ran through their minds when they got me this particular gift.
I was feeling really loved at the moment, when I met up with them and received this present from them. There are still other presents, but of course, those will be separate posts.
I am truly happy with this little gift, it is to me, a gift which had journeyed through a long way; not just physically, but also psychologically.
It opened up my eyes to the true natures of my girl friends, who are always there for me and whom I know, are always watching my back, no matter what happens.
They wanted me to have this gift, because they know this is something which I will love, and they are not wrong.
Yet, what they didn't expect was how emotional this gift made me feel when I got it ;)
It is not just a gift, but it created music and love notes in my heart, as it made me feel so loved....♩ ♪ ♫ ♬